James Ehrlich was close to building first ReGen Village, a sustainable community practising organic farming and circular waste management, before coronavirus
Silicon Valley entrepreneur believes now is the moment to implement his vision, and he has a supporter in Asia in Hong Kong eco-hotels developer Andrew Jones
Apr 27, 2020 8:00 PM (GMT+8)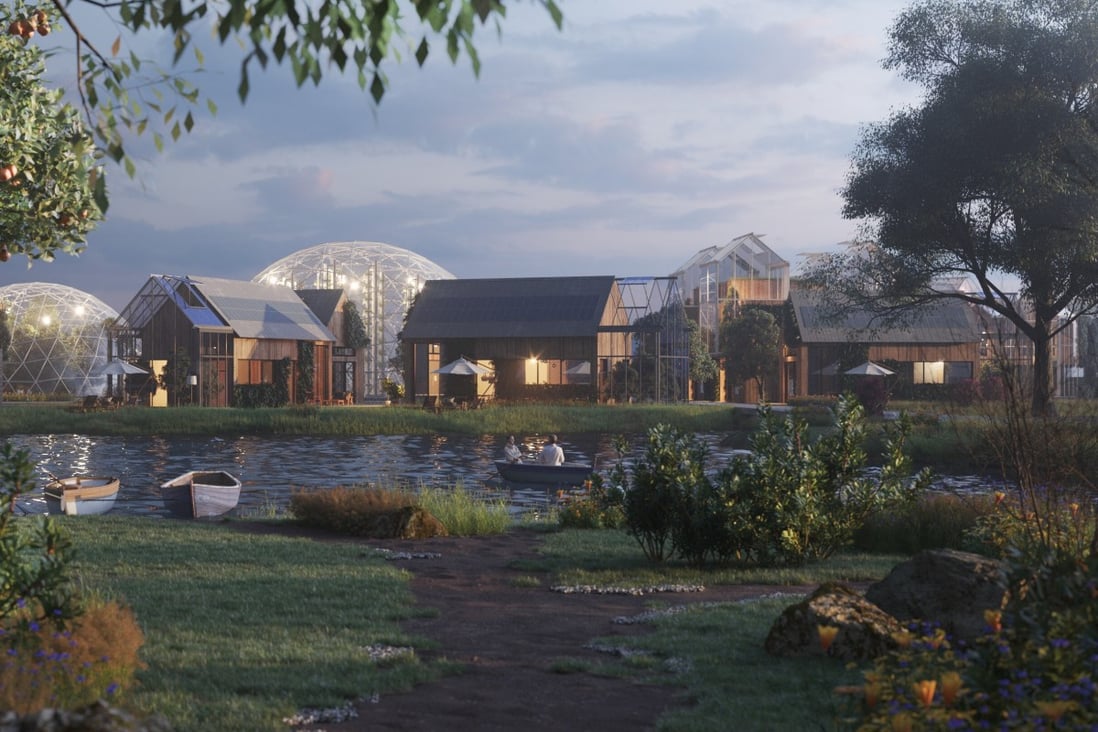 An artist's impreesion of a ReGen Village, a sustainable neighbourhood where families produce their own food, generate their own power and contribute community labour. Image: ReGen Villages Holding
Brick by brick, app by app, James Ehrlich is building his ideal home, and – he hopes – what in future could be everybody's ideal home.
The Silicon Valley entrepreneur's brainchild is straightforward: a sustainable village that makes the best use of technology, growing much of its own food and generating most, if not all, of its own power. In many ways, it's a fusion of old and new, combining modern technology with the idea of a traditional village that provided everything it needed for itself.
"I call this the Tesla of eco-villages," says Ehrlich, 56, who has been honing the concept of ReGen – short for regenerative – Villages for more than a decade.
"With the coronavirus, we are living in fast-changing times, so now is the moment to grasp artificial intelligence and machine learning to address the integration of high-yield organic food, clean water, renewable energy and circular waste-to-resource management on the neighbourhood scale. Given the climate and other factors, it's potentially the perfect housing solution for Asia."
Villagers would grow their own high-yield organic food in the neighbourhood. Image: ReGen Villages Holding
Under the basic template for the villages, each 20-hectare community will be home to about 100 families. Each house will have its own greenhouse for growing personal crops, and the village's communal farms and livestock will be managed and run by ReGen staff.
Individuals can volunteer their labour as a way to lower the monthly fees homeowners pay on top of their mortgages. At present, 40 square metre (430 square foot) village houses are expected to sell for €150,000 (US$161,000), while the largest, 280 square metres in area, should fetch €1.1 million. "Our goal is to bring costs down with prefab construction methods and circular building materials, to realise social and affordable pricing for purchase and rentals," Ehrlich says.
"We want to work with governments and sovereign wealth and pension funds to provide housing solutions for developing economic areas in the world, as a means to express self-reliant, strong and healthy communities as the right optimistic solution coming out of Covid-19."
In nitty-gritty terms, ReGen Villages' household food waste will be composted and fed to flies, which in turn feed fish, which then fertilise aquaponic gardens – multilayered systems combining fish farming and hydroponic agriculture, with plant roots submerged in a nutrient-rich solution rather than soil.
Villagers eat the produce from the farms, as well as from seasonal gardens, which will be fertilised by waste from livestock herds raised to feed residents. Rainwater will also not go to waste; it will be filtered for use in the farms and gardens. On-site solar panels will provide power.
ReGen Villages make the best use of technology, growing much of their own food and generating most of their own power. Image: ReGen Villages Holding
Crucially, the villages will use sensors and technology to monitor energy use, farming efficiency and living patterns, and send that data to the cloud so villages in similar geographic regions can learn from each other. The strategy is similar to the way Tesla uses machine learning to analyse data gathered from the autopilot systems in its electric cars.
As with any project of this magnitude, getting to the stage of breaking ground has been a lengthy process. Ehrlich focused on the Netherlands as the best possible site for his first village, given the country's creditable record of environmental awareness and readiness to entertain new ideas.
"In 2018 we received preliminary approval for 203 homes on a 25-hectare plot in Almere, 30 minutes by rail east of Amsterdam," he says. "But we wanted our pilot project to reach people of lower-income brackets, not just the wealthy upper-middle class, so we lobbied for more houses.
"Then the local government changed, so we are having to continue to lobby there, and in the meantime, we're looking at other sites, in Sweden, Britain and the United States."
Silicon Valley entrepreneur James Ehrlich is the brains behind the ReGen Villages concept.
In Britain ReGen Villages has teamed up with Sir Robert McAlpine, one of the country's largest engineering construction companies, while in Sweden – which, research indicates, needs a million new homes in the next decade – it has joined forces with Stockholm-based White Arkitekter.
"Sustainability is at the heart of everything that White does and stands for, and we will be in charge of the overall planning of the ReGen Villages and the design of the climate-positive buildings," says Margaret Steiner, White's project manager.
"We aim to establish the first ReGen Village in Sweden as soon as possible. We need to build houses and develop resilient communities that can withstand the challenges that come with climate change, urbanisation and population growth, as well as other crises, such as coronavirus. So we plan to offer an economically and ecologically sound solution through our partnership with ReGen."
The possible advent of ReGen Villages in Asia has caught the attention of environmentalists and sustainable developers around the region.
"I believe ReGen Villages may be even more feasible in Asia due to the warmer climate," says Andrew Jones, who runs Hong Kong-based Sanctuary Resorts, a hotel developer that has made environmental concerns the fulcrum of its operations. "These could also be models for retirement communities and alternative-lifestyle resorts. Given the coronavirus situation, people have come to the realisation that their lifestyles may need to change and are looking for other options.
"Developments like ReGen could also help local communities share resources and help sustainable-development initiatives; for example, excess energy could be sold back to the grid, which is already happening in parts of Europe."
ReGen Villages is a perfect model all across Asia, where we have explored opportunities with landowners, developers, universities and governments in Singapore, Malaysia, Korea, Japan, Taiwan, Vietnam, India, Thailand and ChinaJames Ehrlich, the man behind the concept of ReGen Villages
While just getting ReGen Villages close to the drawing board has been a time-consuming affair, it's very much a passion project for Ehrlich.
"I moved to California from New York, where I started a software company creating digital special effects for movies and designing video games," he says.
"Near my home in Marin County there were many amazing family farms practising organic and biodynamic farming, so I began to research case studies, filming interviews and tracking where the food was going – to schools, elderly care, and top regional chefs and kitchens."
As a result, Ehrlich ended up producing and directing a hit television series called Organic Living, which at its peak was reaching 35 million homes a week. But the shows were about more than just recipes, farmers, chefs and food.
"The programmes also focused on these lovely intentional communities, the co-living and co-housing and collaborative eco-villages that surrounded these lush family farms, along with the regenerative resiliency they provide to their residents," Ehrlich says.
"In 2013, I self-funded a research initiative at Stanford University, examining an industrialised approach to the modern eco-village movement, marrying up my background in software and technology, and the case study research in regenerative infrastructure."
Each ReGen Village house will have its own greenhouse for growing personal crops. Image: ReGen Villages Holding
Ehrlich founded ReGen Villages three years later, aiming to make it a for-profit investment vehicle that would work in concert with current thinking about climate change and its ramifications.
His previous experience conjuring up computer games has stood him in good stead in terms of developing the villages' operating software, which will be used to control the micro-environment.
"We are currently ingesting the construction and engineering data provided by Sir Robert McAlpine in the form of a 'kit of parts', so we will soon start modelling regenerative and resilient neighbourhood developments based on location data," Ehrlich says.
"It should be available by next year, in time to be used to manage and operate our first pilot community."
While ReGen's initial focus is on Europe, Ehrlich is looking specifically at Asia as a region for future growth.
"ReGen Villages is a perfect model all across Asia, where we have explored opportunities with landowners, developers, universities and governments in Singapore, Malaysia, Korea, Japan, Taiwan, Vietnam, India, Thailand and China," he says.
The ReGen Village concept has caught the attention of environmentalists and sustainable developers around Asia. Image: ReGen Villages Holding
"We want to replicate and scale around the world by partnering with top development groups which understand the urgent need to provide housing, combined with critical life-support systems of food, water, energy and circular waste management for the benefit of long-term healthy and safe communities.
"From a government perspective, ReGen Villages lower their financial burden – locally, regionally and nationally – by improving healthy outcomes that reduce strains on health care systems, insurance interests, banking concerns and infrastructure," Ehrlich says.
"Creating peaceful communities in uncertain times is the kind of return on investment we all believe is the right way forward."
This article appeared in the South China Morning Post print edition as: Growing off the grid