We had a wonderful visit at the Sanhe wood workshop hosted by the Master craftsman Mr Lin Chi Qian, and Ms Chen Bai He. They let us walk around the traditional wood workshop where they both produce traditional furniture and teach woodworking class.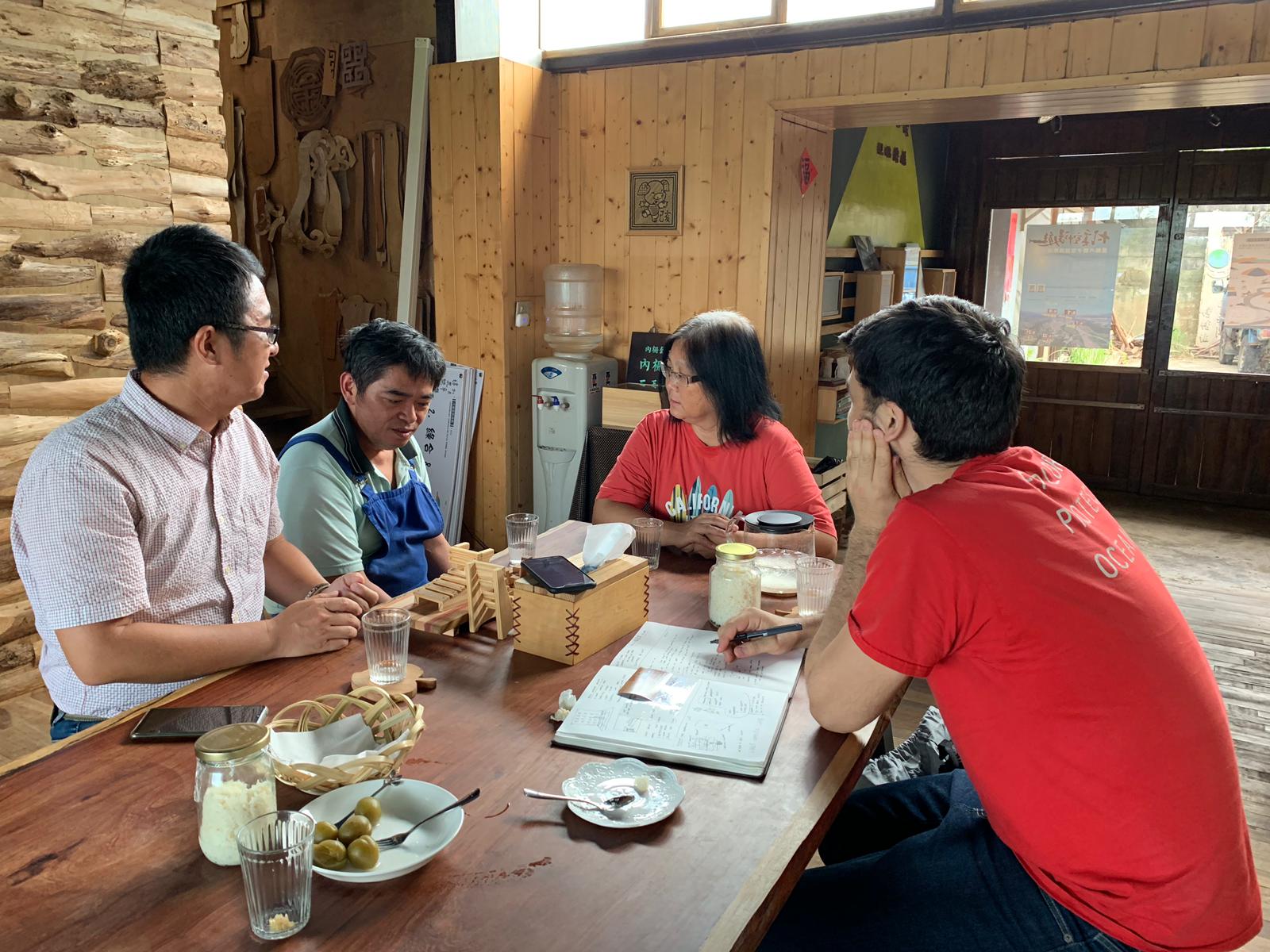 The last three years, the business changed quite a bit. In 2016 Sanhe woodworking used to be busy with 70% fabrication orders and teaching workshops 30% of their time. In 2019, communicating through their very nice Facebook page, they attracted more and more workshop business and now spend 50% of the time dedicated to workshops and 50% of the time for fabrication orders.
About 70% of the attendance of the workshop are young urban female, typically office workers. Mr Lin and Ms Chen mentioned that women tend to be better at woodwork because they are more patient, more precise and perhaps feel they have something to prove because woodwork is typically sought to be practiced by men.
People who attend the workshop come either from Taiwan urban area but some of them come from foreign places such as Hong Kong, Singapore or even Europe for a day long workshop. Sanhe workshop is happy to design custom workshops for a week long or longer. Participants can bring their own designs, and make them with the guidance of the master. They mention there are many Airbnb options in the area.
Mr Lin said that he has four other skilled instructors and he hopes they will help to take over the business after he retires. Their son is currently in secondary education so it is too early to know if he will get involved with the family business.
This goal of Mr Lin is to pass on his skills and the appreciation for traditional craftsmanship. Most people throw away their objects once old, out of fashion or damaged. Mr Lin wishes that that people would treasure their objects, making high quality objects, maintaining them and giving them a long and happy life. It is important to repair old furniture for the furnitures themselves, but also for the human spirit, to protect traditions and the environment - our future.
The vision of Sanhe Wood Workshop is now also to offer a more holistic experience with organic farming work, cooking and staying on site: to truly experience the sweetness and flavour of the Taiwanese rural life.
Thank you so much for welcoming us so warmly. We hugely appreciate your Taiwanese hospitality. We wish you great success.
Location

: 24.8438764,121.2741286 | R7VF+HM 崁頂 Taiwan, Taoyuan City, Daxi District |

https://goo.gl/maps/Z4Hyy44BYDu58ahx7
Address

: No. 36, Ln. 671, Sec. 3, Kangzhuang Rd., Daxi Dist., Taoyuan City 335, Taiwan (R.O.C.)

Business Hours

: MON to SUN: 09:00-18:00

Ticket

: Free

Payment

: Cash only

Capacity

: 50 /pp

Parking Spaces

: 5 cars

Facilities

: Experiencing area for woodworking

Contact

: Miss Chen / 0980-211492 / 03-3881870 / sanhewoodart@gmail.com

Prices to expect

: DIY Cell phone holder NT. 350/2 hours, DIY dessert plate NT. 450/2 hours
Other websites where you can read about Sanhe Wood workshop in Daxi, Taiyuan City