The Hong Kong Oyster (Crassostrea hongkonggensis) is tasty and highly nutritious and has also helped to clean and enrich our deep bay waters. Yet the local oyster industry is under threat. Scientists at HKU's Swire Institute of Marine Science are now getting behind this home-grown shellfish.
For 700 years there has been an oyster-growing industry in Lau Fau Shan and the surrounding waters of Deep Bay on the Shenzhen River. However, that industry has gone into slow decline in the last 70 years as heavy metal pollution in the waters around Shenzhen Bay have severely damaged the product and the industry.
The low-point came in 2014, when the Shenzhen authorities banned Hong Kong oyster farmers from selling their wares on the grounds that waters had become so contaminated seafood from Shenzhen Bay was not fit for consumption. The oyster growers disagreed, citing findings by the Hong Kong Environmental Protection Department (EPD) and Agriculture, Fisheries and Conservation Department (AFCD) which suggested heavy metal and bacterial pollutions have steadily declined in the past 20 years.
They complained to the Hong Kong Government that they were being unjustly cut off from their livelihood. Now, scientists from HKU's Swire Institute of Marine Science (SWIMS) and School of Biological Sciences have joined forces with local oyster growers and the Government to put the Hong Kong oyster back on the map and, more importantly, back on the plate.
Under a major new programme, funded by the HKU Knowledge Exchange Fund and AFCD's Sustainable Aquaculture Fund, SWIMS is getting the public involved too through workshops and hands-on training aimed at raising public awareness.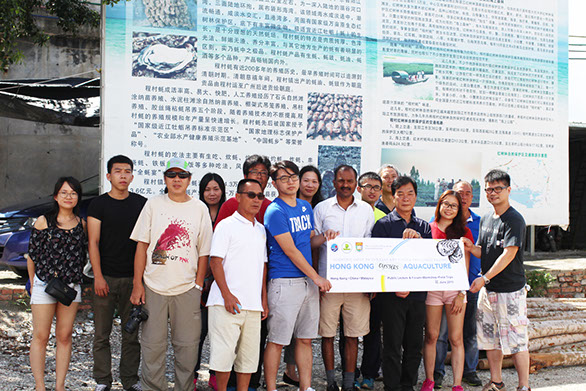 Oyster growers from Hong Kong visited an oyster production site in Yangjiang, China and learned how oyster seeds are produced using traditional methods and the socioeconomic aspects of oyster hatchery in China.
It's vital that we ensure it continues to flourish. Deep Bay water is highly productive and biodiverse, and this is down to the oysters that grow there.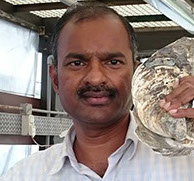 "There are two main goals to the project," said SWIMS Associate Professor Dr V Thiyagarajan(Dr Rajan), who is leading the programme. "First, to persuade the public that Hong Kong oysters have a cultural and sentimental value to them. The Hong Kong oyster is tasty, highly nutritious and very good for local waters – plus there are 700 years of cultivating tradition behind it.
"We want to change the perception that if the Shenzhen River is polluted then the Hong Kong oyster must be. We scientists will carry out regular monitoring over the next five years, so that production will go up the quality of the product will go up and, eventually, the price will go up thereby benefiting the oyster growers."
The second goal is scientific input: initially, the removal of bacteria from the oysters before they go to market, and then the introduction of hatchery technology to local oyster farmers to facilitate a sustainable oyster industry in Hong Kong.
"At the moment Hong Kong growers buy seed from China, and it is the seed that may be contaminated, unsustainable and expensive," said Dr Rajan. "We recently held a workshop for oyster growers and the public which showed them that with hatchery technology developed at SWIMS the future of oyster grown exclusively in Hong Kong is not only feasible it is sustainable too.
"We want to return the industry to the local growers, and so we plan to work with them and the Government over the next five years to put the technology in place in Lau Fau Shan and to monitor the oysters grown there so we can assure the public they are pollution free and safe to eat."
Oyster spats or young adults from Dongshan area, China, are raised to market size at Deep Bay using 700-year-old traditional methods such as suspending them from rafts or placing them on concrete tiles on the mud flat.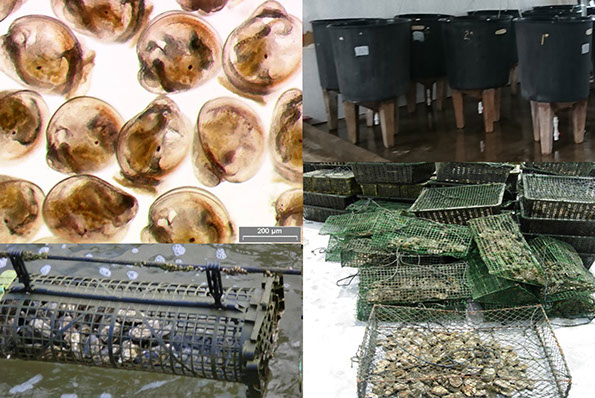 A model hatchery (larval rearing) technology was introduced to Lau Fau Shan oyster growers where oyster larvae will be raised to spats in a hatchery.
In their turn, oysters have given back to Hong Kong. Seven hundred years of oyster growing in Deep Bay has resulted in the area being a highly sensitive site and a hotspot of biodiversity. "It's vital that we ensure it continues to flourish," said Dr Rajan. "Deep Bay water is highly productive and biodiverse, and this is down to the oysters that grow there. They provide a habitat for myriad other species. If the oysters died out, we would also lose those species – so there is an important ecological purpose to this programme too."
This is one of the messages they aimed to get across to the community at the workshop. "Most of the public are unaware that oysters are very important to the Hong Kong environment," he said. "They keep Deep Bay at this high level of biodiversity, acting as filters and emitting clean water."
That shows in the rate of growth too. At the workshop oyster growers showed scientists at SWIMS that oysters grown in the rich waters of Deep Bay can grow in six months to a size that takes a year elsewhere.
"Another of the aims of this project for the oyster growers is to increase the price from HK$5 to at least HK$10 per oyster," Dr Rajan said. "While that represents a 100 per cent increase, this is still far cheaper than imported oysters from, say, New Zealand. Plus, Hong Kong oysters are big – the shells can grow up to 30cm in length – that is a lot of oyster for your money."