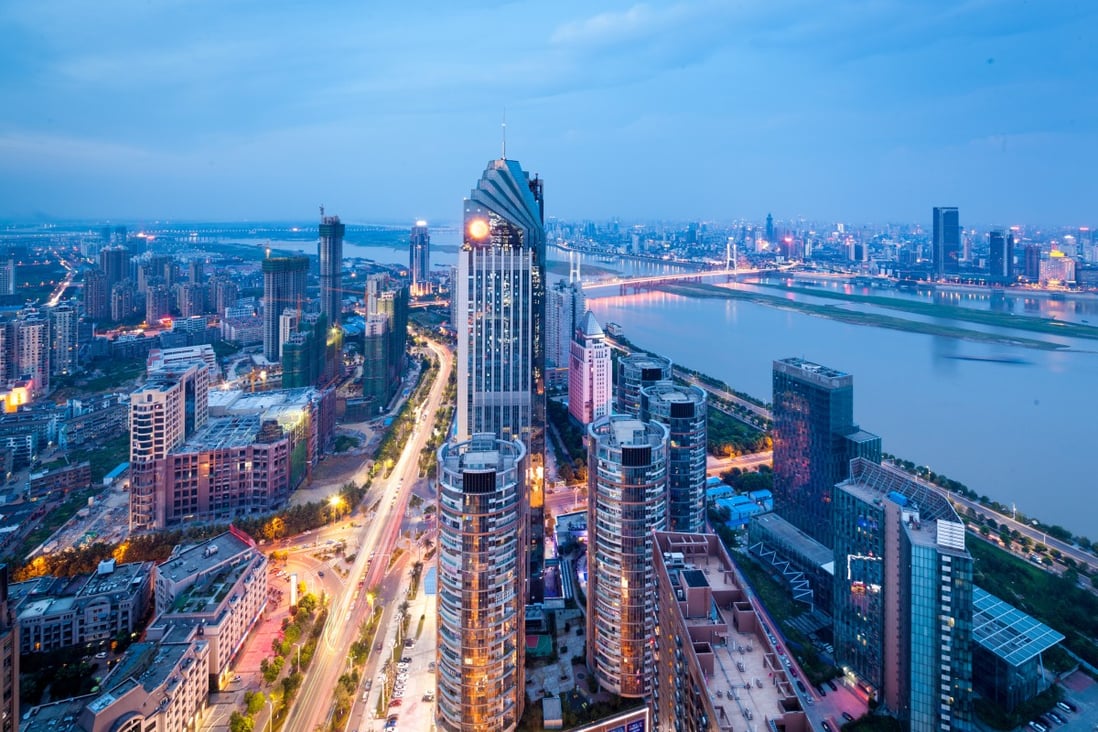 The Chinese government expects the GDP of the Greater Bay Area, which includes 11 Pearl River Delta cities such as Shenzhen (pictured), to reach US$4.62 trillion by 2030. Photo: Shutterstock
I have been living in Hong Kong for 7 years now, and I often wonder how big is the Greater Bay? I have explored most corners of Hong Kong a bit of Shenzhen and I am really looking forward to discover more of the Greater Bay. So for fun, I wanted to wrap my head around how big it is in comparison to other cities and urban areas I am familiar with. And...
It's incredibly densely populated

It is huuuge
See the maps underneath, side by side comparison to other megacities that look small next to the Greater Bay. At real scale.
Also have a read at this article
Greater Bay Area: 10 facts to put it in perspective
Tapping the near-unlimited potential of one of the country's most productive geographical areas is the aim of the Chinese government's master plan.
Apr 1, 2019 3:48 PM (GMT+8)
Urbanisation and the creation of wealth have been signatures of mainland China's journey of economic reform and liberalisation. Today's China is home to the world's greatest number of city dwellers. To foster new business opportunities, China has a grand strategy of developing multiple city clusters to create sizeable areas of economic strength.
One of the most notable of the mainland's urbanisation initiatives is the Guangdong-Hong Kong-Macau Greater Bay Area in southern China, which covers the country's most open and economically vibrant region. The goal is to develop a world-class urban cluster that could rival global cities also situated on bays, such as San Francisco, New York or Tokyo. Here are 10 facts about the Greater Bay Area that illustrate the significance of its economic potential.
1. The population of the Greater Bay Area is more than the whole of the UK and twice that of Canada
Nine cities in Guangdong province and the Special Administrative Regions of Hong Kong and Macau had a combined population of about 70 million in 2017, which makes up 5 per cent of the total population in China Inside the Greater Bay Area, the three biggest cities by population are Guangzhou, more than 14.5 million people; Shenzhen, about 12.5 million people; and Dongguan, about 8.3 million.
2. The Greater Bay Area occupies less than 1 per cent of China's land area but contributes 12 per cent of GDP
While the Greater Bay Area's land mass takes up less than 1 per cent of the whole country, it accounts for 12 per cent of the national GDP. In 2017, it added US$1.5 trillion (HK$11.77 trillion) to the Chinese economy. That number is about twice the value of the annual contribution made by the San Francisco Bay Area.
Inside the Greater Bay Area, the three cities reporting the greatest GDP are Hong Kong, Shenzhen, and Guangzhou, with each contributing more than US$300 billion in 2017. The majority of GDP in these cities were from tertiary industries.
3. Air freight traffic across the Greater Bay Area is greater than the combined figures of the bay area of San Francisco, New York and Tokyo
The volume of air freight traffic in the Greater Bay Area was 7.96 million tonnes in 2017, greater than the combined volumes of San Francisco, New York and Tokyo, according to the Hong Kong Trade and Development Council.
The volume of air freight traffic in the Greater Bay Area was 7.96 million tonnes in 2017, with Hong Kong handling more than half of it at 4.52 million tonnes. Photo: Paul Yeung / Bloomberg
China wants to develop a world-class airport cluster in the Greater Bay Area. Existing airports will expand to increase their capacities and transport links are also to be improved. Hong Kong will seek to enhance its role as an aviation management training centre to improve the efficiency of air freight traffic.
4. Three of the world's top 10 container ports are in the Greater Bay Area
Some of the world's busiest container harbours are in Greater Bay Area, with Shenzhen, Guangzhou and Hong Kong ranked in the world's top 10 container ports measured by twenty-foot equivalent unit (TEU) sea containers, says Hong Kong's Marine Department. The region's container ports handled more than 66 million TEUs in 2017, which is significantly greater than any other bay areas.
Shenzhen is home to the world's third largest container port by volume. Photo: Shutterstock
To boost the potential of the region's ports, the hinterland in the western part of China is being developed. Included in the infrastructure plan is the Huangmaohai Bridge that should drastically cut travel time between Zhuhai and southwest China, and increase the flow of goods across the region.
5. Hong Kong to become a green bond hub for mainland issuers and global investors
Hong Kong is home to one of the world's biggest green bond markets. Last year, green bonds valued at more than US$11 billion were arranged and issued in Hong Kong – about triple 2017's figure.
Green bonds valued at more than US$11 billion were arranged and issued in Hong Kong last year. Photo: Shutterstock
Hong Kong serves as a gateway for mainland Chinese issuers of green bonds to connect with international investors. The Hong Kong government helps subsidise the issuance of green bonds to lower the costs for issuers. Additionally, the Hong Kong Green Finance Association was established in September 2018 to help businesses engage in green investment projects on the Belt and Road.
6. Hong Kong health care professionals to provide short-term services across the border
Medical practitioners and nurses licensed to work in Hong Kong can provide short-term services in mainland China. The University of Hong Kong has also been operating a hospital in Shenzhen under Hong Kong's management system. In the five years from 2012 to 2017, the hospital assisted more than 4 million patients. It has also introduced advanced anaesthesia technology that permits complicated surgical procedures such as liver transplants.
The University of Hong Kong-Shenzhen Hospital assisted more than 4 million patients from 2012 to 2017.
The Greater Bay Area master plan calls for more cooperation in medical and health care services between Hong Kong and the mainland. Hong Kong medical professionals are also encouraged to conduct short-term private practice in the mainland.
Both the University of Hong Kong and the Chinese University of Hong Kong want to set up medical faculties in Shenzhen. This would increase high-quality medical services and education in the Greater Bay Area.
7. Macau, the world's entertainment hub, will partner with Zhuhai to boost tourism
Macau has a vibrant tourism industry and with the opening of the Hong Kong-Zhuhai-Macau Bridge – the world's longest sea crossing – visitor arrivals in Macau have increased to 3.4 million tourists in January, a 25-per-cent increase in year on year terms. Visitor numbers are expected to increase further through forming partnerships with Portuguese-speaking countries.
Visitor arrivals in Macau reached 3.4 million in January, a 25 per cent year on year increase. Photo: Shutterstock
Macau has special access to land on Hengqin Island in Zhuhai, on the shared border, to develop world-class tourism and leisure facilities. The Greater Bay Area master plan says Hengqin will create a favourable environment for hosting international events such as the International Circus Festival to attract tourists.
Hong Kong businesses have also invested in the creation of an integrated tourism and entertainment development in Hengqin. Two Hong Kong-listed companies have invested more than US$750 million in Novotown, a development that features indoor theme parks, performance halls, hotels and wedding venues.
8. The provincial capital of southern China, Guangzhou, will become a transport hub
The Greater Bay Area master plan envisions Guangzhou as an international transport hub. There are plans to drastically increase by five times the length of railway in and around the city to 2,000 kilometres (1,243 miles) by 2035. The enhanced rail infrastructure will carry 396.8 million departing passengers a year.
With the high-speed rail link having begun operations, Guangzhou is only 50 minutes from Hong Kong by train. Photo: Weiquan / Shutterstock
Guangzhou's government will build subway lines and highways to connect the city to neighbouring municipalities, including subway lines to link with Dongguan's metro system, which is more than 20 kilometres away from Guangzhou. It also hopes to construct new trunk lines.
Getting around within the city is also increasingly efficient. In addition to some 30,000 taxis, Guangzhou has more than 10,000 all-electric buses carrying 6 million passengers every day.
On the aviation front, a new terminal and two new runways are being constructed at the Guangzhou Baiyun International Airport. A second international airport is also being planned that should consolidate the city's role as a key transport hub for passengers and goods.
9. Shenzhen's share of R&D investment is only matched by South Korea and Israel
As a hi-tech hub in southern China, Shenzhen is currently home to more than 3 million businesses, including tech giants such as Tencent, DJI and Huawei. According to the Greater Bay Area Outline Development Plan, Shenzhen should continue its leading role as a capital of innovation and creativity.
On a global scale, Shenzhen's investment in research and development is one of the world's highest. In 2018, more than US$14.9 billion, or about 4 per cent of its GDP, was invested in research, according to a work report published by the Shenzhen government in January 2019.
It was a figure matched only by South Korea and Israel, both of which invested about 4.2 per cent of their GDP into research in 2016, according to the World Bank.
Shenzhen and Hong Kong have plans to jointly develop a new science park on their border that is expected to boost innovation.
10. Dongguan will develop as a hub for the service industry
Dongguan is a centre for manufacturing and home to about 9,000 enterprises backed by foreign investment, according to the Hong Kong Trade and Development Council. The city has five pillar industries – including electronic information, electrical machinery, textiles, food processing and paper production – generated a total value-added industrial output of US$34 billion in 2017.
The 13th Five Year Plan outlines how 63 per cent of Dongguan's service sector will evolve to a higher contemporary standard by 2020, with a focus on sectors such as financial insurance, e-commerce and technology services. The master plan aims to develop Dongguan into a globally competitive cluster of high-end manufacturing industries.
An emerging district, Binhaiwan, spans an area of 60 square km and will be positioned as a tech hub to attract multinational corporations and innovative enterprises.